Keep Your Grills Clean And Free From Gunk With This Convenient Mat!

Tired of scrubbing and cleaning off the gunk that always finds itself stuck on your barbecue grill?
Grill to your heart's content without ever having to worry about cleaning after with this amazing BBQ Grill Mat!
This unique grill mat is thin enough to ensure that your steaks will get that sumptuous grilled streaks without sticking to your grill!

Each mat is made of food-grade PTFE coated fiberglass material to maintain proper heat transfer without compromising its durability!

It's an amazing mat that will save you hours of scrubbing your grills!

Say goodbye to hours of scrubbing your grill and cook your steaks efficiently on these amazing BBQ Grill Mat!

Food-grade PTFE Fiberglass Material!
Made of premium quality food-grade PTFE fiberglass material!

Product Specifications: 
Material: PTFE coated Fiberglass

Dimensions: Approx.40*33cm

Weight: 42g

Available Color: Black

Package Content:

1x Non-Stick BBQ Grill Baking Mat

It's a must-have non-stick solution for grilling your barbecues!

Prevent your food from sticking to your grills and enjoy a more convenient way to cook your steaks with these amazing 

 BBQ Grill Mat!

A Great Non-stick Solution For Your Grill!
A great non-stick solution for your oven and grill!

It features an innovative PTFE coating to provide you with an amazing heat transfer that evenly heats your meat thus preventing it from sticking to the surface!

Each mat is extremely thin to ensure that your meat will have that sumptuous grilled streak finish!

It comes with a wide grilling surface area to ensure that your ingredients wouldn't slip through the slits of your grill!

It's a must-have grilling partner for your grill!

Keep your grills free from gunk and start getting those perfectly grilled steaks with the amazing BBQ Grill Mat now!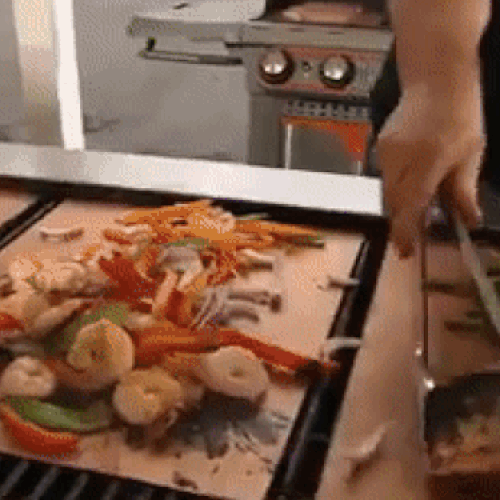 3 Buying Options, The More You Buy, The More You Save!
BEST VALUE
 (SECOND OPTION BELOW)
How Long Does It Take To Ship?

We strive to provide you the best shopping experience and are working hard with sellers all over the world to get you great products at unbeatable prices! Due to our products coming from hundreds of sellers, our shipping is estimated to arrive at your doorstep within 14-21 Days.


How many BBQ Grill Mats are there in one pack?

Each pack comes with one BBQ Grill Mat.

Material: PTFE coated Fiberglass

Dimensions: Approx.40*33cm

Weight: 42g
Available Color: Black


What is Our Return Policy?

We want you to be completely satisfied with your purchase. If you're unhappy with the product, you can return the item within 30 days of receiving the item.




You can initiate a return using the contact us page to start a return ticket. Please include your order number and the reason for the return. We will either reship a new one, apply for credit, or refund you. We do our best to respond to all requests within 24 hours of receiving them.




At this time, Trending Deals does not refund, reimburse, cover or otherwise be responsible for any fees not paid to  Trending Deals. This includes any customs taxes or VAT as well as any return shipping costs you may incur in the return process.