Gardening Made More Convenient, Cost-efficient, and Time-efficient!

Too tired of watering each plant every day?

With the Garden Automatic Sprayer Set, you can easily water evenly all your plants without breaking a sweat!

Imagine the experience of having a drip irrigation system in your own home or garden!

Included are different nozzles for every kind and size of plants!

The system is very easy to assemble and set up to use right away!

With every tube connected to the system, gardening will surely be more convenient with the Garden Automatic Sprayer Set!

Made With Durable Materials And An All-Inclusive Set!
Durable PVC pipes, rubber hoses, and high-quality plastic connectors for its longevity!

Product Specifications: 
Material: PVC
Hose Length: 30 meters
Model Number: DIY Drip Irrigation System
Type: Watering Kits
The best and most complete drip irrigation set for your gardening needs!
Easy installation for the beginners and most experienced by just connecting the needed parts together, and you can even customize the hose length to your preference!
Save time, energy, and money with the use of the amazing Garden Automatic Sprayer Set!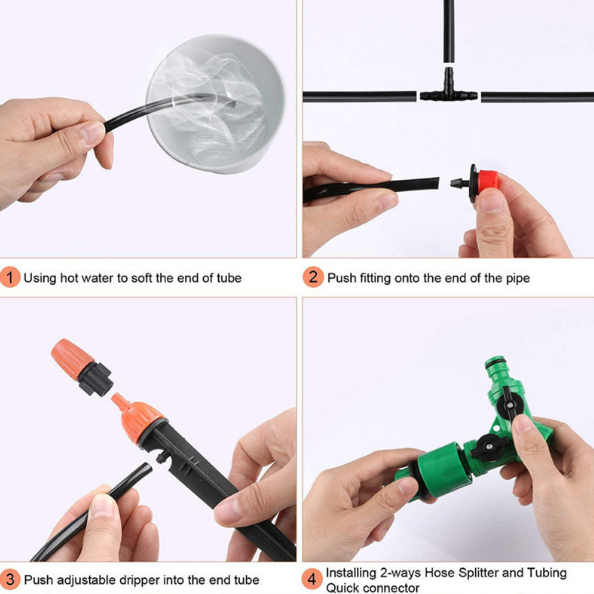 Allow Gardening To Be Done Anywhere and Anytime!
From your garden, lawn, park, greenhouse, or any patch of grass, you can let this drip irrigation system do the work for you!

Simply adjust the length of the tubes to your preferred dimensions!

This complete set provides the sufficient amount of water needed for your plants!

With the various included attachments you can prefer to have it release water through mist or drops!

It's a great and efficient way to tend to your plants or lawn!

Make gardening easy with the Garden Automatic Sprayer Set today!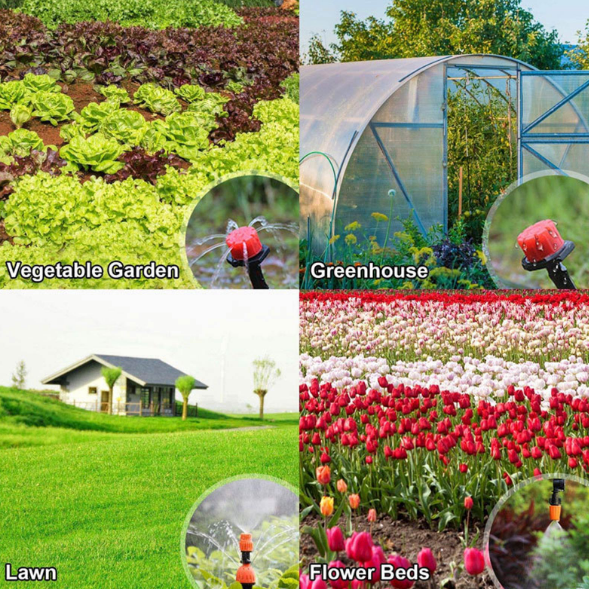 3 Buying Options, The More You Buy, The More You Save!
BEST VALUE! (2nd Option Below!)
How Long Does It Take To Ship?

We strive to provide you the best shopping experience and are working hard with sellers all over the world to get you great products at unbeatable prices! Due to our products coming from hundreds of sellers, our shipping is estimated to arrive at your doorstep within 14-21 Days.


How many Garden Automatic Sprayer Sets in one pack?

Each pack comes with 1 Garden Automatic Sprayer Set.

Material: PVC
Hose Length: 30 meters
Model Number: DIY Drip Irrigation System
Type: Watering Kits

Set Inclusions:

1 x Faucet Connector (for 1/2" and 3/4" faucets)
1 x Universal Connector
1 x 4/7 Pacifier
1 x 1/2 Pacifier
1 Roll x Sealing Tape
30 Meters x 4/7 Hose
30 x Dripper
20 x Sprayer
50 x 4/7 Tee
10 x 4/7 Dual Hook
20 x Ground Plug

What is Our Return Policy?

We want you to be completely satisfied with your purchase. If you're unhappy with the product, you can return the item within 30 days of receiving the item.




You can initiate a return using the contact us page to start a return ticket. Please include your order number and the reason for the return. We will either reship a new one, apply for credit, or refund you. We do our best to respond to all requests within 24 hours of receiving them.




At this time, Trending Deals does not refund, reimburse, cover or otherwise be responsible for any fees not paid to Trending Deals. This includes any customs taxes or VAT as well as any return shipping costs you may incur in the return process.