These Gnomes Are Battle Hardened And Ready For Every Engagement!

Are you ready for non-stop adrenaline-pumping action right in your backyard?
Turn your boring garden into the ultimate battlefield and deploy the ultimate gnome defense forces with the adorable Garden War Gnome!

This set of battle-hardened gnomes comes complete with a full set of heavy weaponry to obliterate every obstacle in their way!

Armed with a full set of heavy weaponry to provide your backyard with the best garden defense it needs!

It's an entertaining adrenaline-packed decoration for your garden!

Deploy battle-hardened gnomes straight to your backyard and let the carnage begin with the hilarious Garden War Gnome!

Made Of Premium Quality Weatherproof Resin!
Made of premium quality weatherproof resin!

Product Specifications: 
Material: Resin

Weight: about 150g

Size: about 15cm high
Available Variants:
Sniper, Commander, Assault Trooper, Heavy Gunner

Package Content:
1x Garden War Gnome

It's a full set of collectibles that will surely spice up your garden!

Let slip the dogs of war and turn your empty garden into the ultimate battlefield with the heavily trained Garden War Gnome!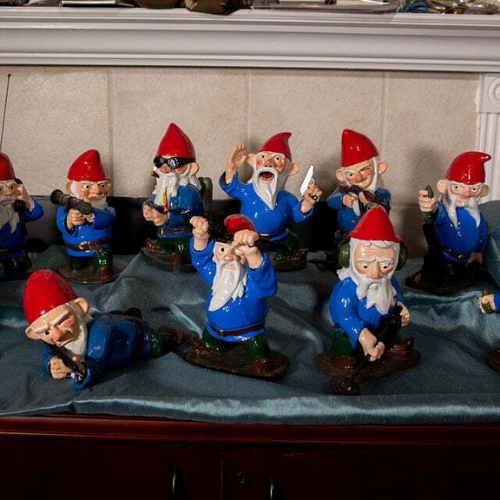 Collect All 4 Battle-ready Gnomes!
Collect all 4 battle-ready gnomes!

Collect every battle-hardened gnome and decorate your home with up to 4 highly trained combat gnomes!

Each combat-ready gnome is made of premium quality resin to ensure long-lasting durability as they defend their backyard homeland!

Built with a sleek and sexy metallic body that will discreetly fit with your overall interior decoration!

It's an adorable addition to your home!

Deploy the best gnomes in the defense of your home and protect your garden from intruders with the battle-ready Garden War Gnome now!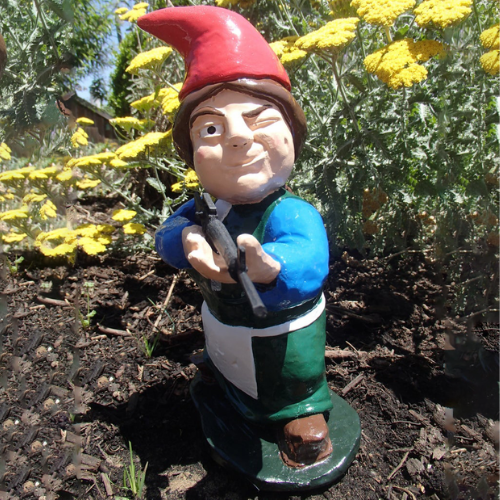 3 Buying Options, The More You Buy, The More You Save!
BEST VALUE! (2nd Option Below!)
How Long Does It Take To Ship?

We strive to provide you the best shopping experience and are working hard with sellers all over the world to get you great products at unbeatable prices! Due to our products coming from hundreds of sellers, our shipping is estimated to arrive at your doorstep within 14-21 Days.


How many Garden War Gnomes in one set?

Each pack comes with 1 Garden War Gnome.

Material: Resin

Weight: about 150g

Size: about 15cm high
Available Variants: Sniper, Commander, Assault Trooper, Heavy Gunner


What is Our Return Policy?

We want you to be completely satisfied with your purchase. If you're unhappy with the product, you can return the item within 30 days of receiving the item.




You can initiate a return using the contact us page to start a return ticket. Please include your order number and the reason for the return. We will either reship a new one, apply for credit, or refund you. We do our best to respond to all requests within 24 hours of receiving them.




At this time, Trending Deals does not refund, reimburse, cover or otherwise be responsible for any fees not paid to Trending Deals. This includes any customs taxes or VAT as well as any return shipping costs you may incur in the return process.